Skip to Content
Isaiah Gong – June 2023 Athlete of the Month
Isaiah Gong, 14, hails from Sharon and will be a freshman at Sharon High School this coming fall. Isaiah participates in tennis and martial arts. He began playing tennis three years ago and became more serious about it last year, so he started training at Elite Sports Performance – Stoughton last summer initially to improve his stamina. After high school, Isaiah plans to go to college, and his interests range from math, science, and literature. He hasn't completely decided on a career path, but one of his interests includes writing, and he even published a fantasy book a year ago called "The Wave of Darkness" – available for purchase! As for tennis, Isaiah says, "I would like to continue to improve my flexibility, bicep strength, and agility,", as he continues to train with Elite Coaches, James, Bill, and Kelsey typically twice per week, complimentary to training with his tennis coach, Coach Les Zhang. His favorite exercise is the alternating dumbbell bench press, and his favorite dynamic stretch is the spiderman stretch.
When asked what defines a true athlete, Isaiah says, "A true athlete is someone who is resilient. I believe that resilience is a characteristic that every athlete should have. If an athlete loses a tournament, injures themselves, or can't master a specific technique in their sports, resilience is important to overcome such challenges." We couldn't agree more – and Isaiah certainly exemplifies a resilient athlete.  Isaiah's advice to younger athletes is simple: "Stay persistent when playing a sport." He also says, "Perfecting a simple skill or getting to know the sport can be hard and needs dedication. I would encourage younger athletes to find a good coach who can elevate their level of play." Related to tennis, Isaiah says "My advice is for you to try to find peers you can hit around with outside of tennis class." We have seen significant improvements in Isaiah's athleticism since training at Elite – take a look below for the differences in his broad jump, pro-agility, and push-up testing results!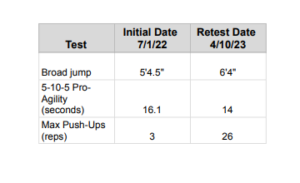 Isaiah continues to train at Elite because "My coaches, Kelsey, James, and Bill are excellent. They are supportive, honest, and professional. The coaches give me a sense of support and structure since they work hard to make us better athletes than the ones we came in as. I enjoy the training program because it is customized for individuals to ensure that our workouts are the most effective." All of Elite's coaches agree Isaiah is an athlete who always comes in and gets right into workout mode – he is focused, determined, and diligent – all of which are qualities we look for when choosing an Athlete of the Month! Isaiah says the best advice he ever received was from his parents, who advised: "Embrace setbacks and see them as an opportunity to learn". We love this piece of wisdom!
Isaiah's favorite athlete currently is tennis star Novak Djokovic. He says, "Djokovic makes tennis look so effortless and graceful and he won over 20 Grand Slams. When Djokovic plays, he never seems to expend a lot of energy on the court. As a result, he is able to play at a high level well into his mid-30s. Seeing him play inspires me to continue to persist in my passion for tennis." Isaiah finds that being involved with sports not only helps him to stay in shape, but also to do well in other parts of his life. He mentions tennis also helped to expand his social circle by meeting new friends. When asked about the culture of Elite, Isaiah boasts, "I like Elite Fitness' structure and clear workout program. The atmosphere in Elite Fitness is supportive and encouraging. It is a top notch place to train. I would recommend my friends to Elite's athlete training program because of the coaches and supportive atmosphere."
Congratulations Isaiah, Elite's Athlete of the Month for June 2023! Keep up the great work, and we can't wait to see what the future holds for you in sports and beyond!
Elite Sports Performance & Physical Therapy offers Sports Performance programs and Sports Physical Therapy  at both our Foxboro and Stoughton locations. To learn more about our programs and services for athletes of all ages and sports and how YOU or an athlete in your family can become our NEXT Athlete of the Month, click HERE or email us at EliteSPC@EliteFitCenter.com. Also, check out our 10-week summer training program below, which kicks off on June 12th at both Elite locations!
Elite Sports Performance Summer Program